Motorized Shopping Carts – Generation Friendly Shopping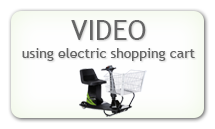 Our service EL-NA-KO (longterm renting motorized shopping carts) offers a unique opportunity to allow groups of citizens with reduced mobility (age, disability, injury, pregnancy), comfortable movement around the store with no physical constraints, while fully enjoy the atmosphere of your choice and purchase.
Service ELNAKO fulfill your wishes … Enjoy your shopping.
Amigo® Manual and Motorized Shopping Carts
Amigo motorized shopping carts are available in front drive and rear drive models. Motorized options include 24-volt maintenance-free drives to provide consistent performance and reliability, reducing repair costs and cart downtime.